​
Grand Opening 2 October at 20:00 +3 UTC
            ✅24\7 Technical support.                       ✅ Work without wipes.
✅ Promotions and bonuses.                 ✅ Biggest online.
Main information
Server x50
Chronicles: Lineage 2 Interlude based on modern Classic client.

Buff slots: 36+4
PvP zones in the following locations: Dream Boss, Valakas, Antharas, Baium, Frintezza, Queen Ant и Dino island
Only one game client window is allowed in epic zones
Difference in lvl for lvl-up characters: 41
Increased M.Crit Rate (x2) and maximum M.Crit Rate =  60%
Retail zaken (60 lvl) and door mechanics. Not fixed respawn time
Added runes
Added auto events
Olympiad. Door opened after 10 sec (before – after 50 sec)

Exp: x50
Sp: x50
Adena: x10
Items: x30
Spoil: x15
Seal Stones: x4
Quests: x10
Rate in some quests: x3-x8
ENCHANT Weapons / Armor / Jewelry:
Safety +3
Max +16/+16/+16
On failure to discharge +3 if enchant with blessed scrolls
When creating a new character:
When creating a new character is given such an items: Top No Grade + Soulshots: No grade + Scroll of Escape + 50000 aden
For example, Rune of Exp&Sp +50%. Basic rate: x50, with Premium account it will be: x100, with rune it will be x75, and with Premium Account and Rune it will be x50 + x50 (Pa) + x25 (Rune) = x125. The rune is activated only for one character, otherwise it works as a premium account.

A special version of the game client based on Lineage Classic has been developed in order to remove lags and crits. Also, the modern client adds new game content (for example, new maunts, achievement system, and others)
Number of client windows launched: 4
Maximum number of buff slots: 36 + 4. Buffs time: 2 hours.
All new characters receive top NG weapons and armors,  
50 000 adena,  
Scroll of Escapes and  
10 Mana Potions
Off-Trade: for start off-trade – just sit on trade and close client
/unstuck – 15 seconds
Sieges – every 2 weeks on Saturdays. Half of the Castles are sieged in one Saturday and the other half in the next week
The catacombs are open 24 \ 7
Weight limit is increased by 50 times. Weight penalty are disabled. Max count items in the inventory increased to 200
Olympiad Period: 1 week. The battles will take place in various arenas. More balanced now! Added various prizes
Global teleport to the most popular locations added to the dialogue of the main GateKeeper's
Convenient ALT + B panel, which includes Control Panel, a section of services, where you can buy nubles, nickname / title change, and other. This menu also contains information about Raid and Epic Bosses, statistics and much more
Augmented weapons can be traded. Item's skills from life stones chances:

 Top – 7%,   
High – 5%,  
Mid – 3%,   
 Simple – 1%
Implemented functionality ACP (AHP AMP). ACP settings are available in the panel ALT + B

The first profession upon reaching lvl 20: free and as a gift 10 shadows tokens to exchange for armor and weapons +  
20 Mana Potions
The second profession upon reaching lvl 40: free and as a gift 20 shadows tokens +  
50 Mana Potions
The third profession after reaching level 76 costs 50,000,000 adena and as a gift 40 shadows tokens +  

1 Secret Book of Giant
Subclass without quest – just add in npc. Maximum 5 subclasses
Auto-learning skills
Easy quest for nobless (
 Lunargent and  
Hellfire Oil in Shop)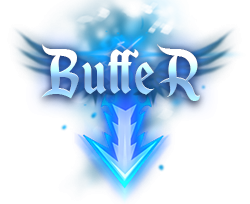 Comfortable NPC buffer with profiles. NPC Buffer has buff, song's, dances and 3rd prof buffs
The cost of buffs – 1 000 adena, 3 professions – 1 000 000 adena (up to 40 lvl all buffs – free )
Premium buffs for Champion Coin, Vote Buff Coin [3 hours], or Buff Coin [unlimited] – malaria, noblesse, resists and other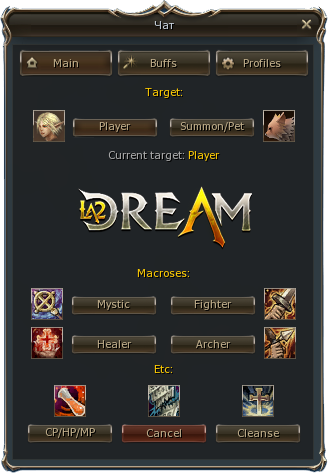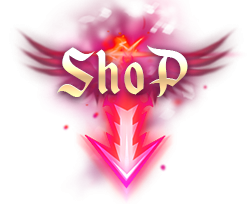 In ShoP, you can purchase consumables, accessories, weapons and armor from D to B grades for adena. Various scrolls, quest items, recipes
Implemented a convenient resource exchanger, exchange of fangs for resources, AA for stones and other functions
Top Shop section for purchasing items for Top Coin (coin for voting) and Event section for purchasing cool gifts for participating in events
Donate section. From the start of the server, it is very limited (includes only accessories and some consumables), but after some time posible buy weapons and armor of A and S grades, etc.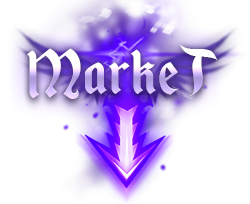 This is a great service where you can sell / buy valuable items from players, such as enchantedand and augmented weapons and armor. Various rare accessories. Epic jewelry and other goods.
The service also allows you to find goods from characters who have put a private store, including offtrade
Convenient filter for various product categories. You can find a product with the desired grade, enchanting, or augmentation

Raid Bosses respawn time from 12 to 13 hours after killing
The respawn time of the alliance RB is from 6 to 12 hours, Flame of Splendor Barakiel – from 3 hours to 3 hours 30 minutes
You can also see all the information about the spawn of Bosses in menu Alt + B
Fixed respawn times have been added to the following Epic Bosses:
Valakas –     23:00 – 24:00* (resp 11 days),
Antharas –  22:00 – 23:00* (resp 8 days),
Frintezza –  22:00 – 24:00* (resp. 2 days),
Queen Ant – 21:00 – 22:00* (resp. 1 day, only first month from start)
Core 80lvl \ Orfen 80 lvl – 7:00 – 8:00 or 19:00 – 20:00* (every 36 hours),
Dream Boss – 20:00*
*Moscow time GMT+3
If Epic Boss does not receive damage for 30 minutes, he goes to sleep, characters in the lair are teleported to the city. The time to kill Epic Bosses is 2 hours, if during this time they are not killed, Epic Boss goes to sleep and teleport all players to the city
Added additional drops for epic bosses, such as visual costumes, shields and other accessories
Further information –  Link